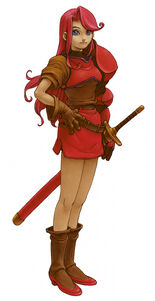 Alexia is Princess of Varuna. She's searching for her father, the King of Varuna.
The evil Baron Diaz has imprisoned Alexia's father, the King of Varuna and Alexia must rescue him to free the land. Problem is who can help her, who can save the land? Where will she find her young legendary hero. That can't be Flint, he is too small Alexia thinks to herself rather disappointed upon finding Flint.
Yet as the plot unfolds Flint proves that size means nothing and rescues the beautiful Princess time and time again and leads her successfully through daring uncanny capers in a way that only a true hero could pull off.
v ·

e

·

d
Characters
Central cast
Flint – Alexia – Zeppo – Ruby – Albert – Mephisto
Supporting cast
Baron Diaz – Belgar –

Children of the Crown

–

Jeehan

– Lord Prunewell
Milena – Natasha – Nunugi –

Pierre

–

Roswell the Sage
Locations
Storyline locations
Airship – Paco Village – Kindra Forest – Mt. Sparrowhawk – Tortuga Beach – Toroledo – Mithra Valley – Howling Cave
Dun Webb – Yagin Harbor – Puerto Medusa – Milena's Mansion – Underwater Cave – Varuna City – Gwaba Town
Sunk Ship – Seagull Ruins – Eden Ruins – Eden Village – Paco Ruins – Demon Whale – Church of the Key
Turnkey Dam – Mt. Firedrake – Underwater Passage – Dark Isle – Dragonia – Old Varuna Ruins – Star Key
Optional locations
Deadeye Zach's –

Gamar Island
Terms
Elemental Orb – Life Crest –

Mephisto's Keys

–

Puzzle Piece

–

Three Relics
Archives
Enemies

–

Equipment

– Items –

Minigames