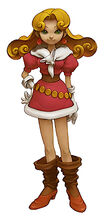 Ruby is the daughter of Zeppo and Milena.
Although she is the same age as Alexia, she lacks the maturity and heart of her Varunian counterpart.
In many respects, Ruby comes across as a self-absorbed, whining brat, known for being bossy and hot-tempered.
From the very beginning, her attitude is enough to make you pity poor Zeppo and Albert.
v ·

e

·

d
Characters
Central cast
Flint – Alexia – Zeppo – Ruby – Albert – Mephisto
Supporting cast
Baron Diaz – Belgar –

Children of the Crown

–

Jeehan

– Lord Prunewell
Milena – Natasha – Nunugi –

Pierre

–

Roswell the Sage
Locations
Storyline locations
Airship – Paco Village – Kindra Forest – Mt. Sparrowhawk – Tortuga Beach – Toroledo – Mithra Valley – Howling Cave
Dun Webb – Yagin Harbor – Puerto Medusa – Milena's Mansion – Underwater Cave – Varuna City – Gwaba Town
Sunk Ship – Seagull Ruins – Eden Ruins – Eden Village – Paco Ruins – Demon Whale – Church of the Key
Turnkey Dam – Mt. Firedrake – Underwater Passage – Dark Isle – Dragonia – Old Varuna Ruins – Star Key
Optional locations
Deadeye Zach's –

Gamar Island
Terms
Elemental Orb – Life Crest –

Mephisto's Keys

–

Puzzle Piece

–

Three Relics
Archives
Enemies

–

Equipment

– Items –

Minigames